Today is Jenny Matlock's Alphabe Thursday's,
a fun link-up for bloggers looking for inspiration and fun.
Today's letter is V.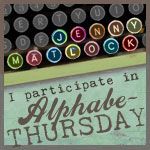 VA VA VA VOOM!

I'm on a travel obsession this week, since we are preparing for our road trip this summer. So the first V word that comes to mind is
Venice.
I loved Italy and would go back in a heartbeat. Rome, Tuscany, Florence, the Lakes, lovely Sorrento...what memories! But of all the places we have been in Italy, I have to say that Venice was my least favorite. Really, I don't have any desire to go back! Been there, done that...check!
Here's why I would pass:
1) It's Very, Very crowded. The streets are jammed with touristas and semi rude people.
2) It's Very, Very expensive.
3) It's Very hard to get a meal that doesn't cost you an arm and leg.
4) It's Very smelly along the canals, and they herd you around like cattle. Romantic? I don't think so!
If you think I'm not Very Venturous or Vicarious, here's one reason I might be coerced to going back...

Mama Mia!! I'll take that gondola, please.
VA VA VOOM!!!!!
Please visit Jenny and all the friends on
Alphabe Thursdays
. Thanks Jenny!
Laurel. Where have you been all my life?