Bloggers have the opportunity to interact with each other using link-ups, challenges and blog hops. I participate in a couple of writing challenges because they give me a chance to stretch a little.
This writer's challenge caught my eye. From Jenny Matlock's
blog
, a Saturday word challenge:
The prompt this week is: "Why oh why oh why..."
Number of words: 100 PLUS the five words of the prompt for a maximum word count of 105
Style of writing: Query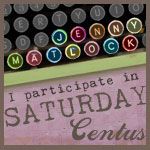 So when I am asked about the biggest "why" in my life, I think of Jon.
You came in the middle of the night and you left the same way. You weren't exactly a blessing in the beginning, coming on the eve of divorce. But you were cute, and I grew to love you.

You had a knack for living large with big dreams, and I became a believer. I did not know you deeply nor understand your wildness. I'm thankful that you made me laugh in the midst of my frustrations. Why oh why oh why did I not get you until it was too late? Your candle snuffed out too soon, but I see you now.

I see you.
Laurel. 'Nuf said.