I'm not a total shopaholic, but one of my favorite de-stressers is to spend time in small shops that are filled with pretty things that stimulate my creative juices or just feed my soul. So this post plays homage to that pastime...the first of many, hopefully.
I took my Amy out to lunch last week for her birthday. We wanted to go someplace special so I made reservations for
High-Hand Conservatory
in Loomis. It's an old fruit packing shed that has been converted to a unique collection of small shops, along with a full scale nursery and restaurant. The restaurant is in a tree-filled glass conservatory - an ambiance perfect for a Spring lunch.
Ricotta Quesadillas...Mmmmmm.
The nursery features a stunning Japanese Maple collection, gorgeous pottery and many unique plants. You can just stroll along gravel paths to music floating through the air.
The selection of succulents in unique "pots" caught our attention.
Inside the huge packing shed, there are several small shopkeepers who feature everything
from pottery to oriental rugs to candles and gifts.
These pretties have little seed strips for planting. Totally cute!
There is also a cooperative gallery and a shop where I learned Nuno felting on silk.
The Tin Thimble
is unique shop with gorgeous applications of this time honored felting technique
and...yippee...they offer classes. They have a stunning collection of wool yarns and soft silk fabric.
My favorite shop in this mini-complex is
The Vintage Bricoleur
. It's a small shabby-chic type store loaded with the most amazing, creative treasures, many of them hand made by artists and
lovers of all thing vintage. We learned that the owners are totally into blogging,
so they were not surprised that I wanted to feature their shop in my blog.
Oh, the ambiance and warmth of this shop:)
Bride's bouquet
They have a class to learn how to make these...I'm signing up!
And a class for this...I have loads of antique sheet music...gotta do this class too!
The Vintage Bricoleur is a must see shop in our area. Go to High-Hand, have some lunch and stop by. Visit their blog to see all the class options and happenings.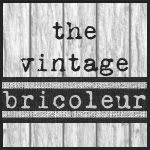 Laurel. Happy Shopping!